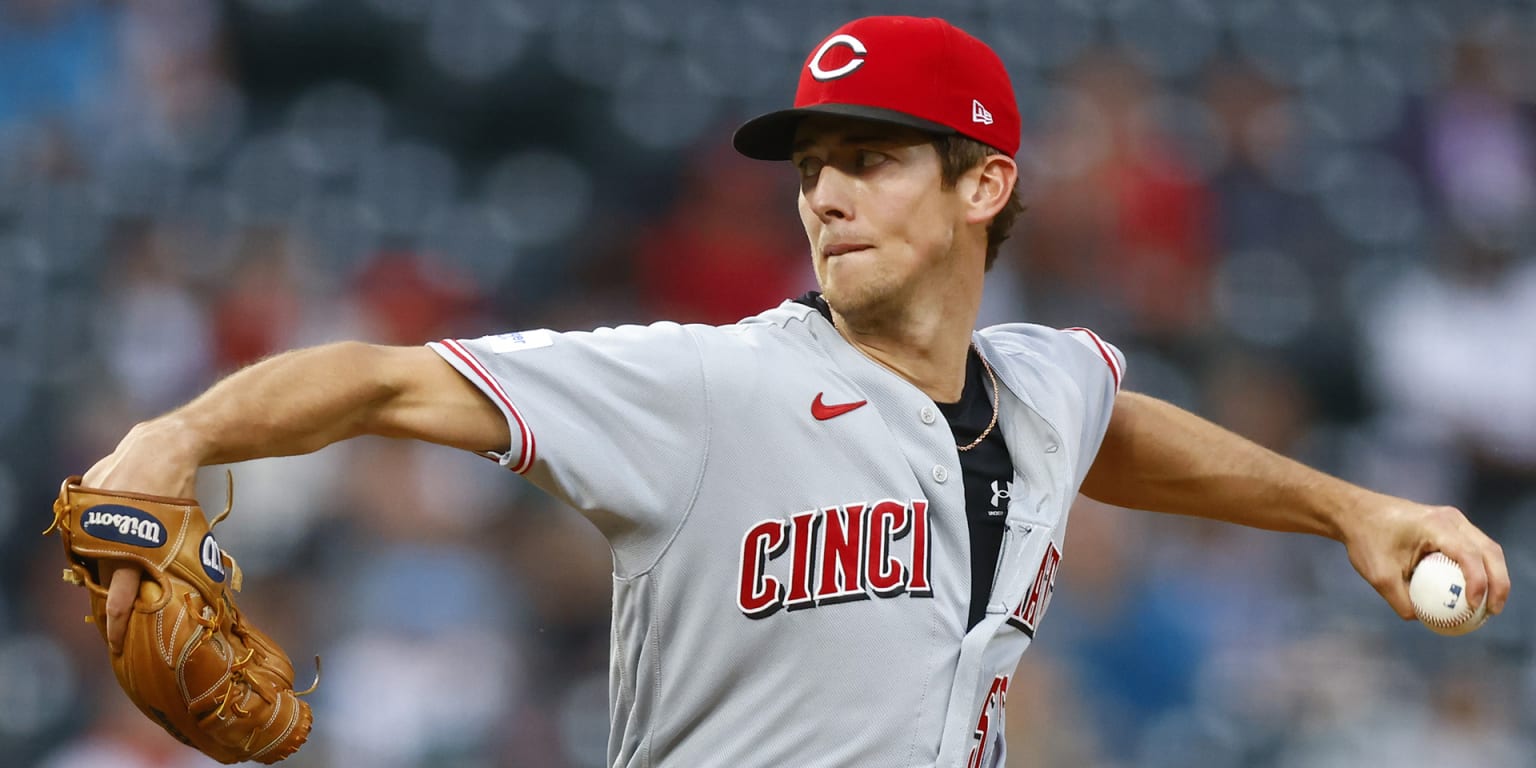 DENVER — Few starting pitchers would identify Coors Field, in the rarified airs of Colorado, as the perfect place to make his Major League debut. On Tuesday, Reds starter Brandon Williamson was just the 10th pitcher to make his debut at the spacious ballpark where offenses often run amok.
"I tried not to think about it," Williamson said. "You go in there thinking, 'Oh man, that's a bong box. A little negative thought. But you don't care where your beginnings are. You just want to come up here.
Williamson made his first start a superlative in a no-decision win in a 3-1 win over the Rockies. The southpaw, who is ranked as Cincinnati's No. 10 prospect by MLB Pipeline and was recalled from Triple-A Louisville, allowed two hits in 5 2/3 innings.
"It can be a lot harder at this stadium, and it can't get much better than that. Brandon has been outstanding," Reds manager David Bell said.
Williamson opened with Charlie Blackmon's first single but erased it when Jurickson Profar grounded at shortstop for a double play.
"I thought right there, it just set Brandon up," Bell said. "He was able to ride after that."
The second hit came after Williamson struck out 14 in a row. It was a solo homer to right field by Ezequiel Tovar on a 2-1 fastball that drifted off the plate to make it a 1-0 game. It represented his only earned run by walking two and striking out six.
Williamson threw 72 effective pitches (47 strikes) — including 56 in his first five innings — to help a worn bullpen.
"I looked up in the fifth inning and was like, 'Whoa, 56 pitches. Let's go nine,'" Williamson joked.
With the exception of spring training sessions, wide receiver Curt Casali had never worked with Williamson before and kept his message simple.
"I just wanted to express how cool it is that he finally made it and enjoy every moment. We sprinkled in a bit of scouting when we could," Casali said. "I always do my homework, so I tried to help him out as best I could, but 5 2/3, a run at Coors Field, yeah, sign me up."
Williamson presented five different pitches but mostly relied on his box cutter, a pitch he only brought back into his repertoire a few weeks ago.
"I was struggling to get a good grip, and my cutter is the pitch while I don't necessarily feel the ball very well, I can still kick it effectively," he said.
Opposite Williamson, former Red Chase Anderson pitched five scoreless innings for Colorado. After he left, Nick Senzel hit a first-pitch offering from reliever Peter Lambert in the sixth inning for a two-out, two-run homer that clinched Williamson.
"(Williamson) threw an unreal. I wanted to give him some points," Senzel said.
Williamson, 25, hadn't posted big underage numbers since being acquired along with Jake Fraley and Justin Dunn in the March 2022 trade that sent Jesse Winker and Eugenio Suárez to the Mariners.
In 27 starts at Double-A Chattanooga and Louisville last season, Williamson was 6-7 with a 4.11 ERA and battled through shoulder pain while his walk rate soared and his strikeout rate decreased.
The shoulder pain was gone, but the overall numbers in 2023 were no better as Williamson was 2-4 with a 6.62 ERA in eight starts for Louisville. But things have started to click recently, starting with a bullpen session late last month.
"I was just like, 'Why am I doing anything less than 100% right now? I feel good. Why not?' I just started throwing the ball as hard as I could," Williamson said. "Everything sharpened up. I was like, 'Let's use this in a game,' and I started rolling."
In the next start at Iowa on April 29, Williamson was beaten for eight runs in one-third of an inning.
"Worst start of my life. I felt fantastic. I thought I was going to dominate," Williamson said.
In the two starts that followed, Williamson rebounded and struck out 11 combined batters in 11 2/3 innings while allowing four earned runs. His confidence had returned.
"I think it was more because my health was where I wanted it to be. I could attack and let it all go, never having to ask myself anything," he said. "Once I started ripping every pitch I throw, then those kind of builds and builds and builds. It took a couple of weeks to snowball and come down."
Shortly before taking on Colorado with about 30 friends and family at the ballpark, Williamson exchanged text messages with his best friend and injured Reds starter Nick Lodolo.
"He was like, 'Leave it all there,'" Williamson said. "That's all I thought about all night."