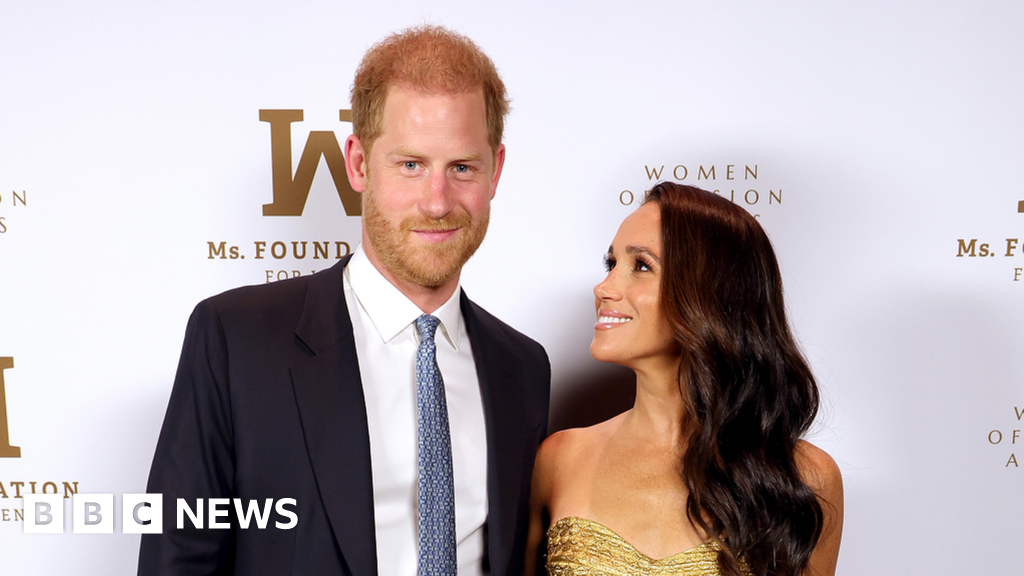 By Sean Coughlan & Bernd Debusmann Jr.
BBC News
Prince Harry, Meghan and her mother were involved in a "near-catastrophic car chase" involving paparazzi, a spokesperson for the couple has claimed.
The incident happened after the Duke and Duchess of Sussex attended an awards ceremony in New York on Tuesday.
In a statement, the prince's spokesman said the "relentless chase" lasted more than two hours.
They added that it caused near misses.
The BBC was unable to independently verify the details.
In a statement, the New York Police Department (NYPD) confirmed an incident had taken place and said many photographers "made it difficult for them to transport (Harry and Meghan)."
No injuries or arrests were reported. Buckingham Palace has yet to comment.
It is claimed that the chase involved half a dozen cars, with reckless driving, including going through red lights, driving on the pavement, making blocking movements and backing up on a one-way street – as well as taking pictures while driving.
"While being a public figure brings some public interest, it should never come at the expense of anyone's safety," the prince's spokesman said.
"The release of these images, given the manner in which they were obtained, encourages a highly intrusive and dangerous practice for all involved."
The awards ceremony – the Ms Foundation Women of Vision Awards – was the couple's first public appearance together since the king's coronation earlier this month. Meghan accepted an award at the event alongside Black Voters Matter co-founder LaTosha Brown.
The couple were accompanied by Meghan's mother, Doria Ragland. Photographs taken last night show the group leaving the ceremony in Manhattan.
New York City Mayor Eric Adams told reporters that two police officers "could have been injured" and that it "would be horrible to lose an innocent bystander in a chase like this."
While Mr Adams said he "would find it hard to believe" a high-speed chase took place for two hours, even a 10-minute chase in congested New York would be "extremely dangerous".
The BBC understands the couple were staying with a friend in New York and did not return directly to avoid jeopardizing their safety during the chase.
It is also claimed that the presence of New York police officers did not stop the pursuit. The couple use private security in the United States.
Duncan Larcombe, the author of the book Prince Harry: the Inside Story, told the BBC it appears "something has gone extremely wrong" with Harry and Meghan's safety in the country.
"It will be a huge surprise to the people who looked after Harry in the UK," he said. "There are huge questions to be asked about whether the paparazzi can still operate in this way."
Prince Harry's mother, Princess Diana, was killed in a car crash in Paris in 1997 while being chased by photographers.
In an interview with the BBC for the documentary Diana, 7 Days, Prince Harry called the paparazzi a "pack of dogs" who constantly stalked his mother. "Every time she went out, there was a group of people waiting for her," he said. "I mean a pack of dogs, followed her, chased her, harassed her, insulted her, spat on her, trying to get a reaction, to get this photo of her training to go wild."
Prince Harry is currently embroiled in multiple disputes with the British tabloid press, including allegations of phone hacking and illegal news gathering.
Earlier this week, a lawyer for the prince told a London court he should be allowed to challenge a government decision that denied him the ability to pay for police protection while in the country.
The couple resigned from their royal duties and moved to the United States in 2020 – a decision which they say was partly due to harassment from British tabloids.
Prince Harry has described his battle to change the media as "his life's work". Next month he will appear in a London court to give evidence in a phone hacking case.
Please include a contact number if you would like to speak to a BBC reporter. You can also get in touch in the following ways:
If you are reading this page and do not see the form you will need to visit the mobile version of the BBC website to submit your question or comment or you can email us at HaveYourSay@bbc.co.uk . Please include your name, age and place of residence with any submission.