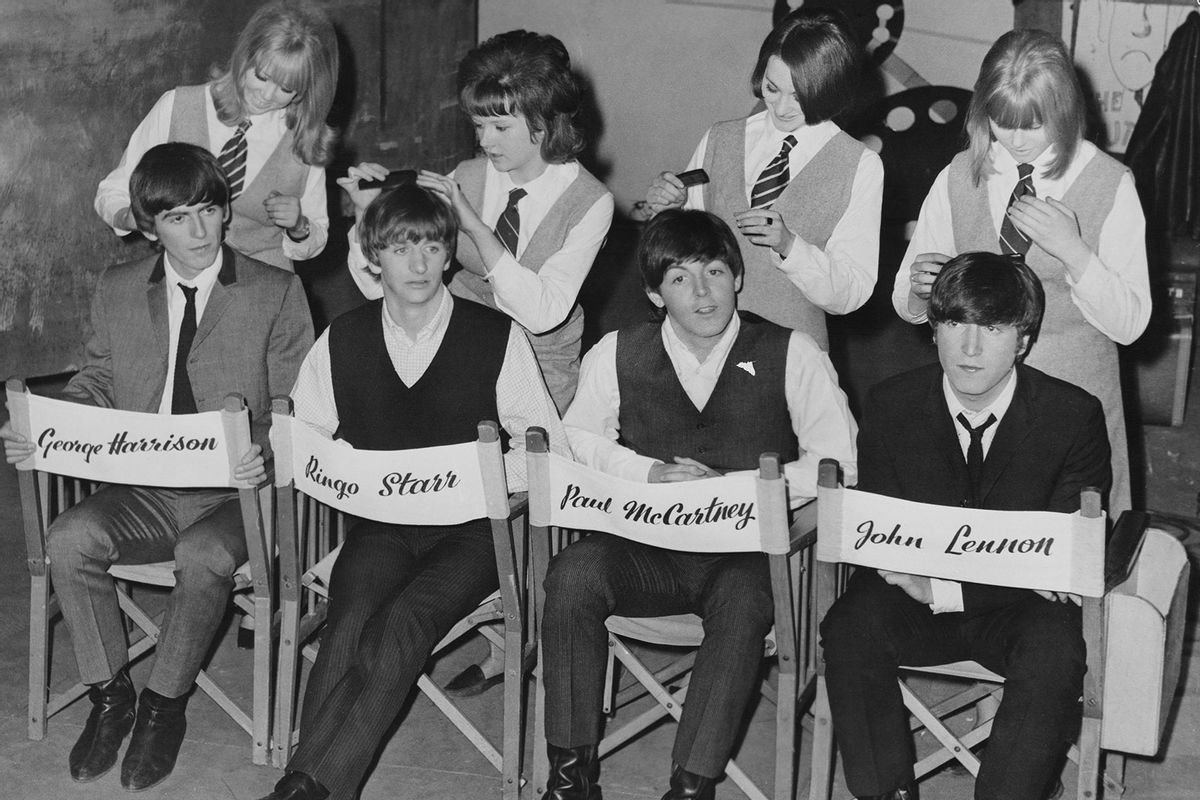 Romantic film? Love music? "Act Naturally: The Beatles on Film" by Steve Matteo is the book you didn't even know you needed. During their seven-year heyday as innovative recording artists, the Beatles produced five films. Not all of them, as with their legendary musical output, would be considered groundbreaking – and depending on your tastes, maybe not even good. But what they achieved, without a doubt, was to redefine the means by which pop musicians brought their products to market.
In fascinating detail, Matteo's book demonstrates the myriad ways the Beatles and their entourage harnessed their moving image to build an empire that endures to the present day. As revealed by Matteo, the group's film productions – "A Hard Day's Night" (1964), "Help!" (1965), "Magical Mystery Tour" (1967), "Yellow Submarine" (1968) and "Let It Be" (1970) – act as key points of reference for the various phases of the band's unprecedented career. Indeed, "A Hard Day's Night" celebrates their days of mopping, while "Help!" and "Magical Mystery Tour" provide touchstones for mind-altering substances – weed and acid, respectively – that have left an indelible mark on their music. And, depending on which camp you're subscribed to, "Let It Be" might just be rock 'n' roll's all-time breakthrough movie.
Moviegoers will take particular note of Matteo's lavish attention to historical origins and the making of "A Hard Day's Night," the consensus masterpiece among the lot. Matteo situates Richard Lester's elegantly photographed rock musical, with its crisp black-and-white tableau, in the evolving tradition of New Wave cinema.
Readers will enjoy taking a peek under the hood when it comes to Beatles movies. Take the famous sequence that graces the start of 'A Hard Day's Night' – the high-octane scene in which the Beatles race for their lives through the London cityscape with a throng of fans nibbling furiously at their heels .
In Matteo's words, "(T)he film's opening sequences immediately convey the youthful new flowering of post-war England, as evidenced by the bustling capital and the country's most striking example of new exuberance and Beatles style."
---
Do you like the Beatles? Listen to Ken Womack's "Everything Fab Four" podcast.
---
But it's more than that. As Matteo shrewdly points out, "Fans of the French New Wave might detect a similarity to a key scene in François Truffaut's 'Jules et Jim' (1962), when Jules (Oskar Werner), Jim (Henri Serre) and Catherine ( playing Jeanne Moreau and dressed as a man, complete with mustache and cigar) race across a bridge.The youthful exuberance and sheer joy of both scenes reflect the freedom and carefree camaraderie of the burgeoning youth culture.
Matteo's book does not end with the standard Beatles cinematic canon, extending beyond the confines of their career as an active rock 'n' roll band to later reissues, as well as with the documentary highly publicized Peter Jackson's "The Beatles: Get Back" (2021). Steven Van Zandt recently observed that growing up in the 1960s, with music and film culture thriving like never before, was an artistic renaissance in its own right. With "Act Naturally", Matteo shows how the Beatles, as undisputed masters of the 20th century Renaissance, adapted their favorite medium – musical and visual culture – to their will.
Learn more
about the beatles