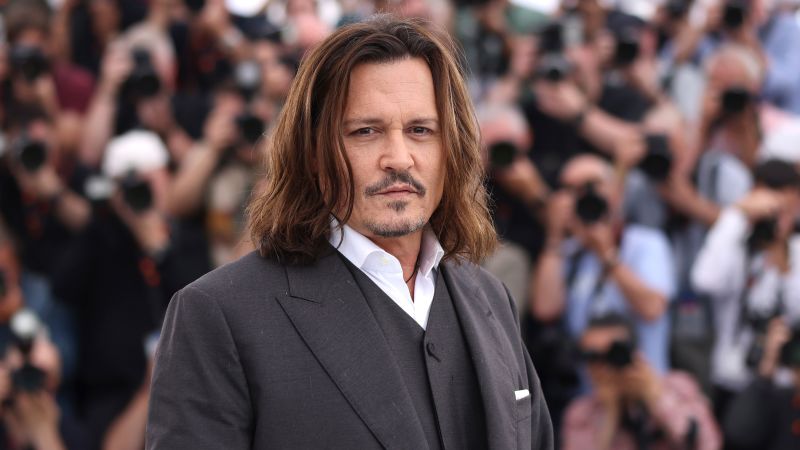 Vianney Le Caer/Invision/AP
Johnny Depp poses for photographers in Cannes on Wednesday.


CNN
—

Johnny Depp had tears in his eyes after his film's warm reception at the Cannes Film Festival on Tuesday.
Video shared on social networks by Variety shows a visibly moved Depp during a standing ovation of more than five minutes for his film, "Jeanne du Barry", in which he plays the former king of France Louis XV.
It was the actor's first film project since a defamation lawsuit with his ex-wife Amber Heard last summer. A jury found them both liable for defamation in their lawsuits against each other, but awarded Depp significantly more damages.
During the film's Cannes press conference, Depp spoke of "abstract whispers" and said that "much of what you've read in the last four or five years…in terms of me and my life, what you read is fantastically, horribly written fiction.
"The focus should just be that it's a miracle to make a movie you care about in the first place," he said. "You win right there."
Variety reported which Depp also said, "I don't feel boycotted by Hollywood because I don't think Hollywood."
"Jeanne du Barry" tells the story of Jeanne Bécu, Countess of Barry, known as Madame du Barry and mistress of King Louis XV.
In April, Cannes director Thierry Frémaux spoke to Deadline about the decision to open the festival with the film Depp, calling it a "beautiful film".
"The opening film must also be released simultaneously in French cinemas; we do not put platform films in this slot, because we want France to participate in the festival," said Frémaux. "The film is a success, and Johnny Depp (in Louis XV) is magnificent in it."