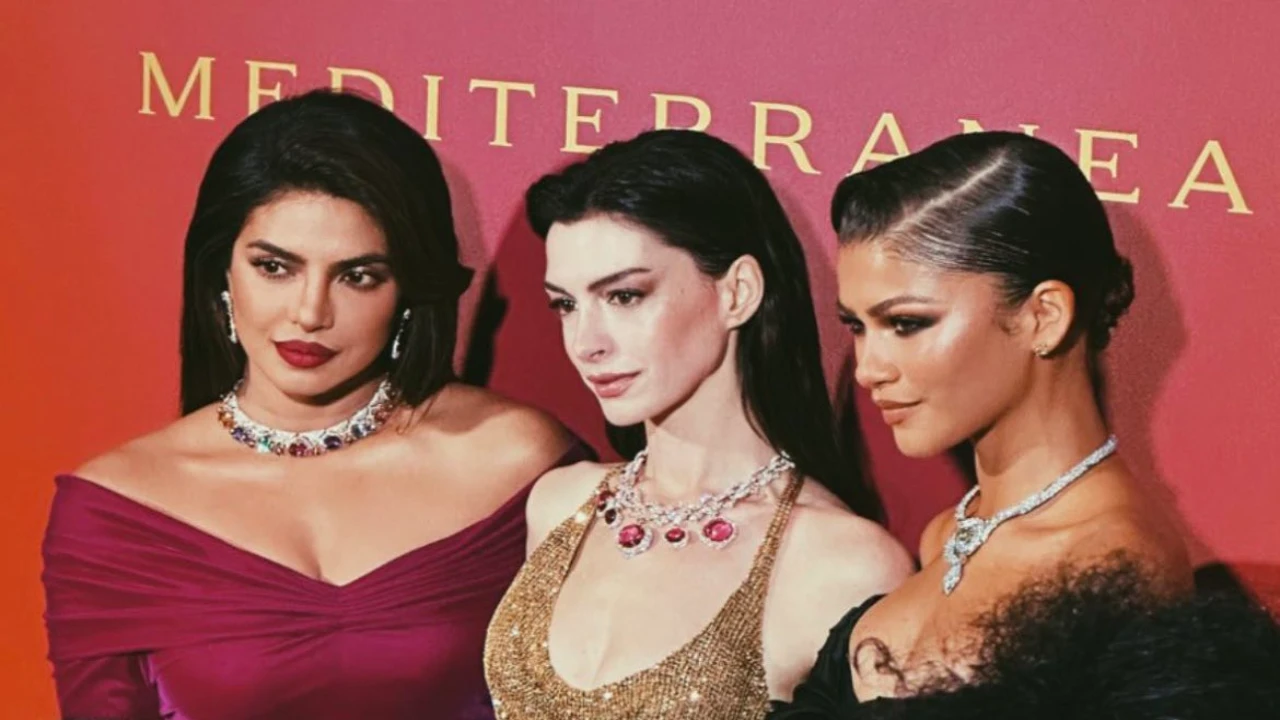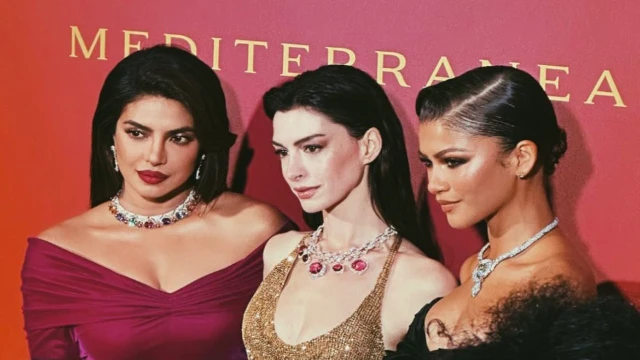 Priyanka Chopra, Anne Hathaway and Zendaya pose at Bulgari's event (Twitter)
Priyanka Chopra, Anne Hathaway and Zendaya were spotted together at Bulgari's event in Italy and fans couldn't help but gush over the trio. The popular actresses attended as brand ambassadors for the jewelry company. Keep reading to find out more about the event being held in Venice and what netizens are saying about it.
Priyanka Chopra, Anne Hathaway and Zendaya attend Bulgari's Italian event
Priyanka Chopra, Anne Hathaway and Zendaya attended Bulgari's Mediterranea High Jewelry event in Venice, Italy on May 16 as the company's brand ambassadors. They were joined by K-pop singer Lisa of Blackpink who is the jewelry brand's fourth ambassador. The four posed together and the internet was flooded with photos and videos from the event as fans gushed about the reunion of the four world celebrities.
While Chopra wore a pink outfit from the Miss Sohee SS23 Couture Collection, Hathaway donned a gold and silver dress with a hood, Zendaya wore a black satin off-the-shoulder dress, and Lisa wore a similar black off-the-shoulder dress but with a bow. The four women were spotted wearing necklaces from the Bulgari collection. This is the first time that the four global ambassadors of Bulgari have been spotted since their announcement.
Although Chopra, Hathaway and Lisa attended Bulgari's latest event in Paris, Zendaya was absent from the same. Fans weren't disappointed this time around as all four made an appearance and posed together on the red carpet as well as inside the Palazzo Ducale venue. Tweets, photos and videos circulated on social networks from the premiere of the event.
Netizens React to Priyanka Chopra, Anne Hathaway and Zendaya at Bulgari's Event
One user wrote, "THE WOMEN OF BVLGARI. ANNE HATHAWAY, ZENDAYA & PRIYANKA CHOPRA. (pink emoji) (camera emoji clicking)." Another commented: "Photographers: 'Tonight's mission is to serve the face' Priyanka, Anne and Zendaya: 'Duty done!'" A third said: "The priyanka x annie x zendaya interaction was not something I was expecting today (crying face emoji)."
While one user tweeted, "bvlgari finally manages to put lisa, zendaya, anne hathaway and priyanka chopra in one frame, this clip is so stunning," another replied, "imagine having those lisa, zendaya, anne hathaway and Priyanka as your GAs. The power these 4 women wield is out of this world." A third added: "zendaya, anne hathaway, priyanka chopra and lisa at the bvlgari event in venice a setting for the history books."