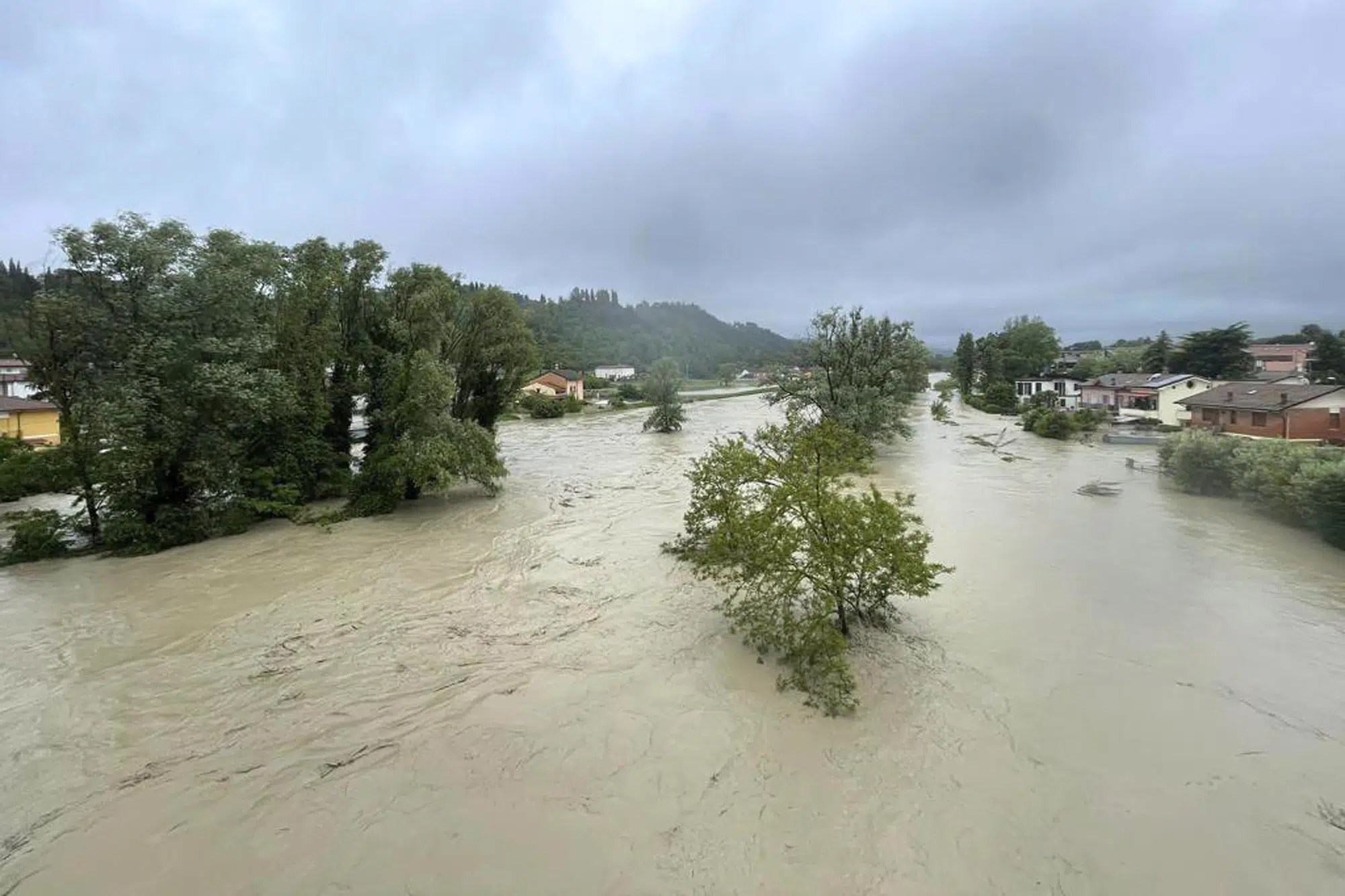 ROME (AP) – Unusual rains on Wednesday in a drought-stricken region of northern Italy caused rivers to swell on their banks, killing at least six people, forcing the evacuation of thousands and prompting officials to warn that Italy needs a national plan to combat climate change-induced flooding.
Heavy rain and flooding also forced Formula 1 to cancel this weekend's Emilia-Romagna Grand Prix to avoid overburdening emergency crews who were already exhausted to respond to the emergency.
Days of rainstorms spread across a wide swath of northern Italy and the Balkans, where flooding, landslides and "apocalyptic" evacuations were also reported in Croatia, Bosnia and Slovenia.
Emilia-Romagna President Stefano Bonaccini said six people were killed and others missing in the floods that forced the evacuation of thousands of people.
Italy's Civil Protection Minister Nello Musemeci has called for a new national hydraulic engineering plan to adapt to the impact of increasing incidents of floods and landslides. In a briefing, he noted that an average of 200 millimeters (7.9 inches) of rain had fallen in 36 hours in the region, with some areas recording 500 millimeters (19.7 inches) over that period.
"If you consider that this region receives an average of 1,000 millimeters (39.3 inches) of rain per year, you realize the impact that these rains had during those hours," Musemeci said.
Citing the November landslide in Ischia which killed a dozen people, Musemeci said Italy is increasingly experiencing an African-style tropical climate, with long periods of drought punctuated by intense rains that cannot not be absorbed by the ground.
"Nothing will ever be the same again (…) and what happened during these hours is proof of that," Musemeci said. "When the ground remains dry for a long time, instead of increasing its absorptive capacity, it ends up cementing itself and allowing precipitation to continue to flow on the surface and cause absolutely unimaginable damage."
Cesena town mayor Enzo Lattuca posted a video early Wednesday on Facebook warning that continued downpours in the Emilia-Romagna region could flood the Savio River and smaller tributaries for a second day. He urged residents to move to the upper floors of their homes and avoid low areas and riverbanks. He announced the closure of some bridges and streets to traffic after rivers of mud ripped through the city and entered basements and storefronts.
Museumeci said 5,000 people had been evacuated, 50,000 were without electricity and more than 100,000 were not using cellphones or landlines.
Deputy head of the civil protection agency, Titti Postiglione, said rescue operations for people in need of emergency evacuation were particularly difficult given that many roads and roads were flooded and telephone service was interrupted. . Speaking on Sky TG24, she noted that the affected flooded area covered a wide swath of four provinces which, until the heavy rains, had been parched by a prolonged drought.
Some regional rail links remained suspended around Bologna and Ravenna on Wednesday, with major delays elsewhere, the Italian rail company said.
Prime Minister Giorgia Meloni, who was traveling to the G-7 meeting in Japan, said the government was monitoring the situation and was ready to approve emergency aid.
In the Balkans, the swollen Una River inundated parts of northern Croatia and northwestern Bosnia, where authorities announced a state of emergency. The mayor of the town of Bosanska Krupa in Bosnia said hundreds of homes had been flooded.
"We have an apocalypse," Amin Halitovic told regional network N1. "There are countless flooded buildings. It was never like this.
Dozens of landslides have been reported in eastern Slovenia, many of which have endangered homes and infrastructure.
In Croatia, hundreds of soldiers and relief teams have continued to deliver food and other essentials to residents of flood-affected areas who have been isolated in their homes. No casualties have been reported so far.
___
An earlier version of this story has been corrected to show that Meloni was on his way to Japan and not returning home.
___
Jovana Gec contributed from Belgrade, Serbia.